Introduction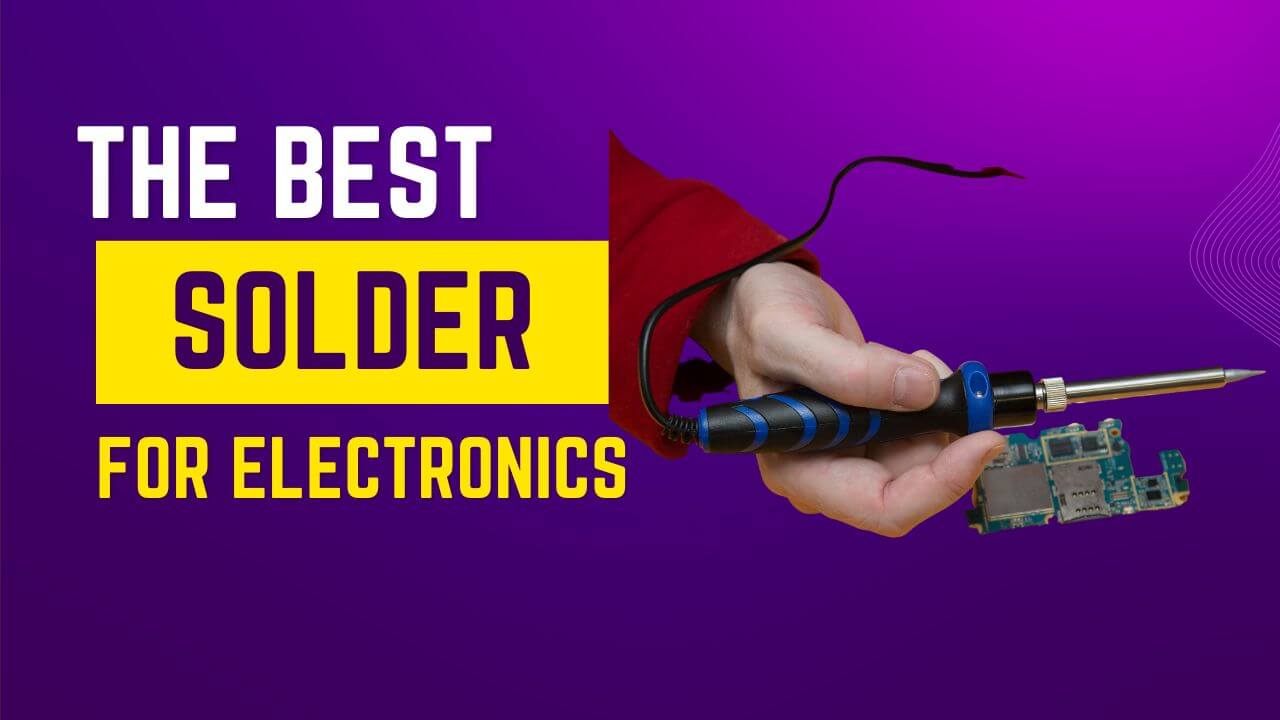 In the fast-paced world of electronics, where precision and reliability are paramount, the quality of solder used can make all the difference. Whether you're a seasoned professional or an enthusiastic hobbyist, finding the best solder for your electronic projects is essential to ensure seamless connections and optimal performance. With various options available, choosing the suitable solder that meets your needs can be overwhelming. But fear not! In this comprehensive guide, we will delve into the world of soldering and unveil the secrets to achieving impeccable connections. Join us as we embark on a journey to discover the best solder for electronics, empowering you to unlock new horizons of technical prowess and innovation.
Understanding the Importance of Quality Solder in Electronics
The quality of solder used cannot be underestimated when it comes to the intricate world of electronics, where every connection and component plays a vital role. Solder, a fusible metal alloy, is the binding agent that joins various electrical components, ensuring reliable and robust connections within electronic circuits. The choice of solder can significantly impact the performance, longevity, and overall functionality of electronic devices, making it a crucial factor in any electronic project.
The Foundation of Reliable Connections
At its core, soldering is melting solder and using it to form a secure bond between electrical components, such as resistors, capacitors, integrated circuits, and countless others. This process creates an electrical and mechanical connection, allowing the smooth flow of current and data transfer. A high-quality solder forms strong bonds, minimizing resistance and maintaining consistent conductivity throughout the circuit.
The Significance of Quality Solder
Reliability

: In the world of electronics, reliability is paramount. The solder must withstand various environmental factors, including temperature changes, humidity, and mechanical stress. High-quality solder ensures stable connections, reducing the risk of intermittent or faulty connections resulting in device malfunctions, signal loss, or complete circuit failure.

Longevity

: Electronic devices are often designed to operate for extended periods, if not indefinitely. The solder must possess excellent durability, resisting the effects of aging and maintaining its integrity over time. Reliable solder joints eliminate the need for frequent repairs or replacements, prolonging the lifespan of electronic devices and minimizing downtime.

Electrical Performance

: The electrical properties of solder are critical in maintaining efficient performance within electronic circuits. Low-resistance connections achieved through quality solder enhance signal integrity, minimize power losses, and maximize overall system efficiency. By reducing resistance, high-quality solder allows for optimal current flow, mitigating the risk of voltage drops or heat build-up.

Mechanical Strength

: Electronics often encounter mechanical stress due to vibration, shock, and physical handling. Quality solder forms robust joints that can withstand these stresses, ensuring the reliability and stability of connections even under adverse conditions. Strong solder joints also provide better mechanical support to delicate components, preventing damage or dislodgement.

Compatibility

: Different electronic components have varying metallurgical properties, including composition and melting points. Quality solder is designed to be compatible with various materials, facilitating proper bonding between diverse members. This compatibility ensures the seamless integration of components, allowing for efficient assembly and reducing the risk of material incompatibilities that could compromise connections.
The Quest for the Best Solder
Several factors come into play when selecting the best solder for your electronics projects. Considerations such as solder composition, flux core, wire diameter, and temperature requirements must be carefully evaluated to match the specific needs of your project. Let's take a closer look at these critical factors:
Solder Composition

: Solder alloys typically comprise tin, lead, silver, and copper. The ratio of these metals determines the solder's characteristics, including its melting point, mechanical strength, and electrical conductivity. Lead-based solders, once popular, have been phased out due to environmental concerns, with lead-free alternatives gaining prominence. Understanding the composition of solder alloys helps ensure the right choice for your specific application.

Flux Core

: Flux is integral to soldering, serving multiple purposes. It cleans the soldered surfaces, removes oxidation, and promotes wetting, allowing solder to flow and form strong bonds. Solder wire is often available with a flux core, eliminating the need for separate flux applications. Different flux formulations cater to specific applications, such as electronics and plumbing.
The Role of Solder in Ensuring Reliable Circuit Connections
The importance of reliable circuit connections cannot be overstated in the vast realm of electronic devices. Every electronic device, from the smallest handheld gadgets to complex machinery, relies on many interconnected components working harmoniously to deliver optimum performance. At the heart of these connections lies solder, a humble yet indispensable material that plays a pivotal role in ensuring the integrity and functionality of electronic circuits.
The Foundation of Connectivity
Soldering, the process of joining two or more metal components using molten solder, is the backbone of electronic circuitry. It involves carefully heating the solder to its melting point and allowing it to flow and solidify, forming a secure bond between the components. This process creates a durable, conductive pathway that allows the smooth flow of electrical current between different circuit parts.
Seamless Conduction
The primary function of solder in electronic circuits is to establish and maintain electrical conduction. When solder is applied to the connecting points of electronic components, it forms a metallurgical bond that facilitates the flow of electrons. This bond ensures low electrical resistance, minimizing the circuit's energy losses and voltage drops. By optimizing conductivity, solder contributes to the efficient operation of electronic devices and prevents performance degradation.
Mechanical Stability
In addition to facilitating electrical conduction, solder provides crucial mechanical stability to circuit connections. Electronic devices are subjected to various forms of stress, such as vibrations, temperature fluctuations, and physical impacts. These external factors can loosen or disconnect electrical connections without proper reinforcement, leading to malfunctions or failures. Quality solder creates robust and durable joints that withstand mechanical stress, ensuring the reliability and longevity of the circuit.
Prevention of Oxidation
Metals used in electronic components, such as copper, silver, and tin, are prone to oxidation when exposed to air or moisture. Oxidation forms a thin layer of non-conductive material on the metal surface, impeding the flow of electrical current. Solder acts as a protective barrier, preventing oxidation by creating a secure seal around the metal contacts. This protective layer ensures reliable conduction and safeguards against oxidation's corrosive effects, enhancing electronic device lifespan.
Thermal Dissipation
Electronic components generate heat during operation, and efficient heat dissipation is vital to prevent overheating and component failure. Solder aids thermal management by providing a conductive path for heat transfer between components and the circuit board. It helps distribute heat evenly, preventing localized hotspots that can compromise performance and damage sensitive components. By facilitating effective thermal dissipation, solder contributes to electronic circuits' overall reliability and stability.
Adaptability and Versatility
Solder offers a remarkable degree of adaptability and versatility in electronic applications. It can be used with various components, including surface-mount devices (SMDs) and through-hole components, making it suitable for multiple circuit designs. Solder is available in different forms, such as solder wire, solder paste, and solder preforms, enabling flexibility in the soldering process. This adaptability ensures that solder can be effectively employed in diverse electronic projects, catering to specific requirements and achieving optimal results.
Factors to Consider When Choosing the Best Solder for Your Electronics Projects
Choosing the solder for your electronics projects is paramount to achieving reliable, high-quality results. With many solder options available, each with unique characteristics, it's essential to consider several critical factors before selecting. By understanding these factors and their implications, you can make an informed decision that aligns with your project's requirements. When choosing the best solder for your electronics endeavors, let's consider the crucial considerations.
Solder Composition
The composition of solder alloys plays a pivotal role in determining their properties and performance. Traditionally, solder contained lead, but lead-free alternatives have become more prevalent due to environmental concerns. Common lead-free solder alloys include tin-silver-copper (Sn-Ag-Cu), tin-copper (Sn-Cu), and tin-silver (Sn-Ag). Each composition offers distinct characteristics such as melting point, mechanical strength, and reliability. Consider the specific needs of your project and opt for a solder composition that best aligns with your requirements and adheres to industry regulations.
Flux Core
Flux is essential in soldering as it aids in the soldering process by removing oxides, promoting wetting, and enhancing the flow of molten solder. When choosing solder, consider whether it has a flux core. Flux-core solder eliminates the need for separate flux applications, streamlining the soldering process and ensuring proper bonding. Additionally, examine the type of flux used, such as rosin-based or water-soluble flux, and select the one that suits your application and desired level of post-solder cleaning.
Wire Diameter
The wire diameter of the solder impacts the precision and control you have during the soldering process. Thinner solder wires offer finer control and are suitable for intricate, delicate work, such as surface-mount soldering. Thicker solder wires, on the other hand, provide more significant solder volume and are ideal for larger components or applications that require higher heat transfer. Consider the size of the components you are working with and the precision necessary, then select a solder wire diameter that matches your specific needs.
Melting Point
The melting point of solder is a critical consideration, especially when soldering temperature-sensitive components or working with heat-sensitive substrates. High melting point solder may risk damaging sensitive components, while low melting point solder may result in weak joints. Ensure that the solder's melting point is compatible with the materials and components involved in your project, striking a balance between achieving a solid bond and protecting the integrity of the surrounding elements.
Application Method
Different soldering techniques like hand, reflow, or wave require specific solder characteristics. Consider the intended application method for your project and choose a solder suitable for that particular technique. For example, if you use a soldering iron for hand soldering, select a solder with good flow properties and wetting capability. Understanding the nuances of your soldering method will help you optimize the solder selection for optimal results.
Environmental Considerations
Environmental factors may significantly affect solder selection in specific applications or industries. If you work in environments with particular requirements, such as high-temperature environments or those subject to stringent regulations, consider specialized solder options to withstand extreme conditions or meet specific certifications. Adhering to environmental standards and choosing solder that aligns with industry-specific guidelines ensures the longevity and compliance of your electronic projects.
Reputation and Reliability
Consider the reputation and reliability of the solder manufacturer or brand. Reputable manufacturers often invest in rigorous quality control processes, ensuring consistent and reliable solder performance.
Exploring Different Types of Solders for Various Electronic Applications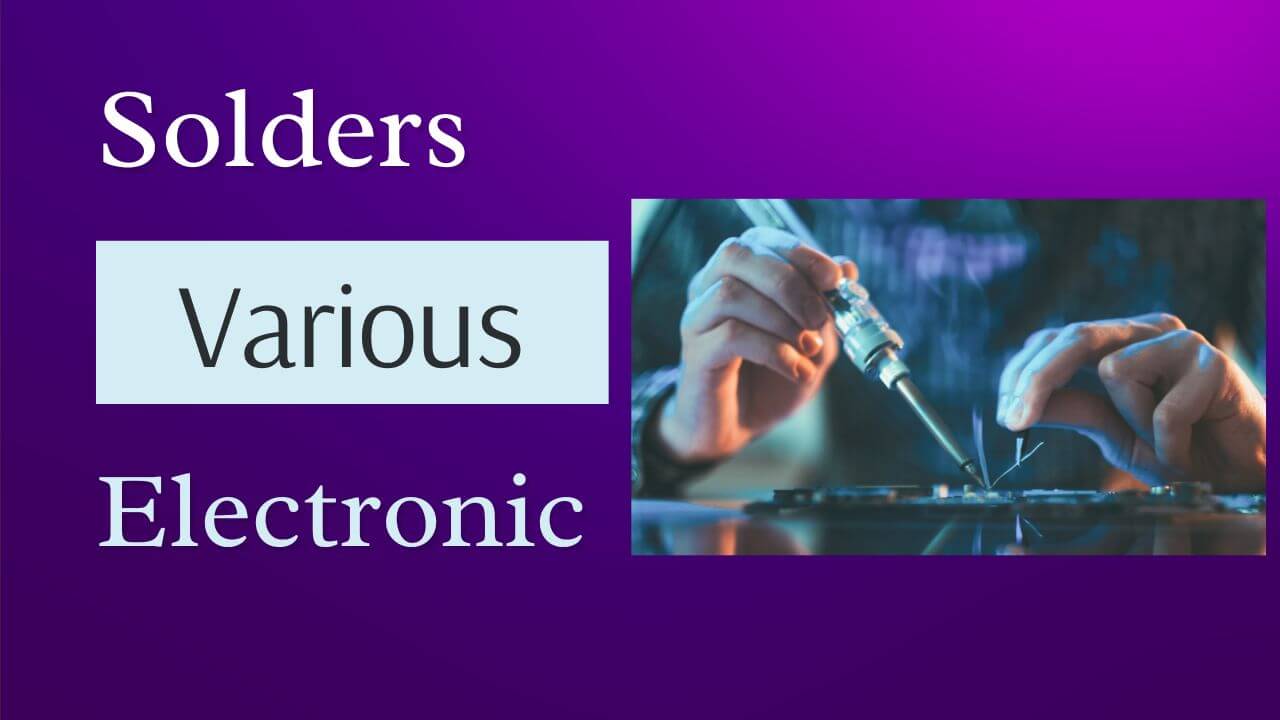 When it comes to soldering in electronics, one size does not fit all. Different electronic applications call for specific solder types that can meet the project's unique demands. Understanding the characteristics and applications of various solder types empowers electronics enthusiasts and professionals to make informed choices that optimize performance and reliability. Let's explore different types of solder commonly used in various electronic applications.
Lead-Free Solder
Lead-free solder has gained prominence due to environmental concerns and regulatory restrictions. These solder alloys typically consist of tin, silver, copper, and other elements, varying compositions depending on the specific application. Lead-free solder offers comparable performance to traditional lead-based solder while complying with global environmental regulations. It is commonly used in consumer electronics, automotive applications, and industries where compliance with RoHS (Restriction of Hazardous Substances) is essential.
Tin-Lead Solder
Tin-lead solder has been widely used in electronics for decades. This type offers excellent solderability, low melting points, and reliable joint strength. The tin-lead alloy composition can vary, with different ratios of tin and lead. However, it's important to note that due to environmental concerns, the use of lead-based solder has been restricted in many regions. Nevertheless, there are still some specialized applications where tin-lead solder is permitted or preferred, such as in specific military and aerospace projects.
Silver Solder
Silver solder, as the name suggests, contains a significant percentage of silver in its composition. The addition of silver imparts desirable properties such as high electrical and thermal conductivity, making it suitable for applications that require enhanced performance. Silver solder is commonly used in industries where reliable and high-quality connections are crucial, such as aerospace, telecommunications, and medical equipment. Its high strength and excellent conductivity makes it ideal for bonding components that experience high currents or elevated temperatures.
Flux-Core Solder
Flux-core solder provides a convenient solution for soldering applications by incorporating flux within the solder wire. The flux core eliminates the need for separate flux applications, saving time and effort during the soldering process. Flux-core solder ensures proper wetting and bonding between components while effectively removing oxides and contaminants from the solder joint. It is widely used in electronics manufacturing, repair work, and hobbyist projects, offering ease of use and reliable performance.
Rosin-Core Solder
Rosin-core solder is a flux-core solder that utilizes rosin as the flux material. Rosin is derived from natural sources and offers excellent fluxing properties, promoting clean and reliable solder joints. Rosin-core solder is commonly used in electronics applications, including PCB assembly, component soldering, and general electrical work. It provides good wetting and solder flow, ensuring proper bonding and minimizing the risk of solder bridges or cold joints.
Water-Soluble Solder
Water-soluble solder is designed for applications where post-solder cleaning is necessary. The flux used in water-soluble solder can be easily washed off with water or mild cleaning solutions, leaving behind a clean solder joint. This solder type is commonly used when removing flux residue is critical, such as in medical devices, food processing equipment, or any application that requires stringent cleanliness standards.
High-Temperature Solder
High-temperature solder is specifically formulated to withstand elevated temperatures and extreme conditions. This solder type is suitable for applications where conventional solder may melt or become compromised due to heat exposure. High-temperature solder finds use in specialized applications like automotive, power, and industrial equipment operating in demanding environments. It ensures reliable connections even under harsh conditions, ensuring long-term performance and durability.
Lead-Free Silver Solder
Lead-free silver solder combines the advantages of lead-free alloys with the enhanced properties of silver. It offers excellent conductivity, high strength, and increased resistance to temperature and corrosion. Lead-free silver solder is commonly used in applications that require high-reliability connections, such as aerospace, military, and industrial electronics. Its robust properties make it suitable for challenging environments with extreme temperatures, vibrations, and mechanical stress.
Aluminum Solder
Aluminum solder is formulated explicitly for soldering aluminum and aluminum alloys, which can be challenging due to their oxide layer. This solder type contains flux that helps break through the oxide layer and create reliable bonds. Aluminum solder is commonly used in automotive and aviation industries for joining aluminum components, heat exchangers, and electrical connections. Its compatibility with aluminum makes it an essential solder type for projects involving this metal.
Nickel-Based Solder
Nickel-based solder alloys are designed for soldering applications involving nickel or nickel-based materials, such as stainless steel. These solders provide strong and durable joints with excellent resistance to corrosion and high temperatures. Nickel-based solder is commonly used in electronics, aerospace, and chemical processing industries, where reliable and long-lasting connections are essential. It ensures compatibility and reliability when soldering components with nickel surfaces or joining dissimilar metals.
Specialty Solder Alloys
In addition to the commonly used solder types mentioned above, specialty solder alloys are tailored for specific applications. These alloys may include unique compositions or additives to address particular requirements. For instance, bismuth-based solder alloys offer low melting points, making them suitable for temperature-sensitive components. Indium-based solder alloys are known for their high elasticity, making them ideal for flexible applications. Specialty solder alloys cater to niche applications and provide tailored solutions to meet unique project needs.
Choosing the Right Solder for Your Application
When selecting the best solder for your electronic projects, consider the specific application, desired performance characteristics, environmental considerations, and industry requirements. Assess the materials being soldered, the temperature range involved, and any regulatory restrictions that may apply. By understanding the properties and applications of different solder types, you can make an informed decision that ensures optimal performance, reliability, and longevity of your electronic connections.
Always follow manufacturer guidelines, proper soldering techniques, and safety precautions when working with solder. This will ensure the best results and maintain the integrity of your electronic projects. Whether you're working on consumer electronics, industrial applications, or intricate circuitry, choosing the right solder type is critical in achieving successful and durable solder joints.
Lead-Free Solder: Eco-Friendly and High-Performance Solution for Electronics
Lead-free solder has emerged as an eco-friendly and high-performance electronics manufacturing and repair solution. With growing environmental concerns and regulatory requirements, the electronics industry has shifted its focus toward lead-free alternatives, paving the way for the widespread adoption of lead-free solder. This chapter will explore lead-free solder's benefits, characteristics, and applications, highlighting its positive impact on the environment and electronic devices.
The Environmental Impact of Lead-Free Solder
Lead, a toxic heavy metal, has long been a key component of solder alloys. However, its adverse effects on human health and the environment prompted the development and implementation of lead-free solder. Lead-free solder eliminates the risk of lead contamination during electronic device manufacturing, use, and disposal. By transitioning to lead-free solder, the electronics industry has taken a significant step toward reducing the environmental footprint associated with electronics production and waste management.
Benefits of Lead-Free Solder
Environmental Friendliness

: Lead-free solder is free from hazardous substances, making it an environmentally responsible choice. It complies with regulations such as the Restriction of Hazardous Substances (RoHS) directive, which restricts using certain hazardous substances in electronic products. By choosing lead-free solder, manufacturers contribute to sustainable practices and minimize the release of toxic substances into the environment.

Improved Health and Safety

: Lead-free solder eliminates the health risks associated with lead exposure, benefiting both workers involved in the soldering process and end-users of electronic devices. It ensures a safer working environment by reducing the potential for lead inhalation and ingestion, protecting the well-being of individuals involved in electronics manufacturing and repair.

Reliable Performance

: Lead-free solder has been developed to deliver performance comparable to traditional lead-based solder. Advances in solder alloy compositions and manufacturing processes have resulted in lead-free solders with excellent solderability, thermal conductivity, and mechanical strength. This ensures reliable and durable connections in electronic devices, meeting the demanding requirements of modern technology.

Compatibility

: Lead-free solder is compatible with various electronic components and materials commonly used in electronics manufacturing. It can be successfully used on printed circuit boards (PCBs), surface-mount devices (SMDs), through-hole components, and various substrate materials. This compatibility ensures seamless integration into existing manufacturing processes without compromising the quality or functionality of electronic devices.
Applications of Lead-Free Solder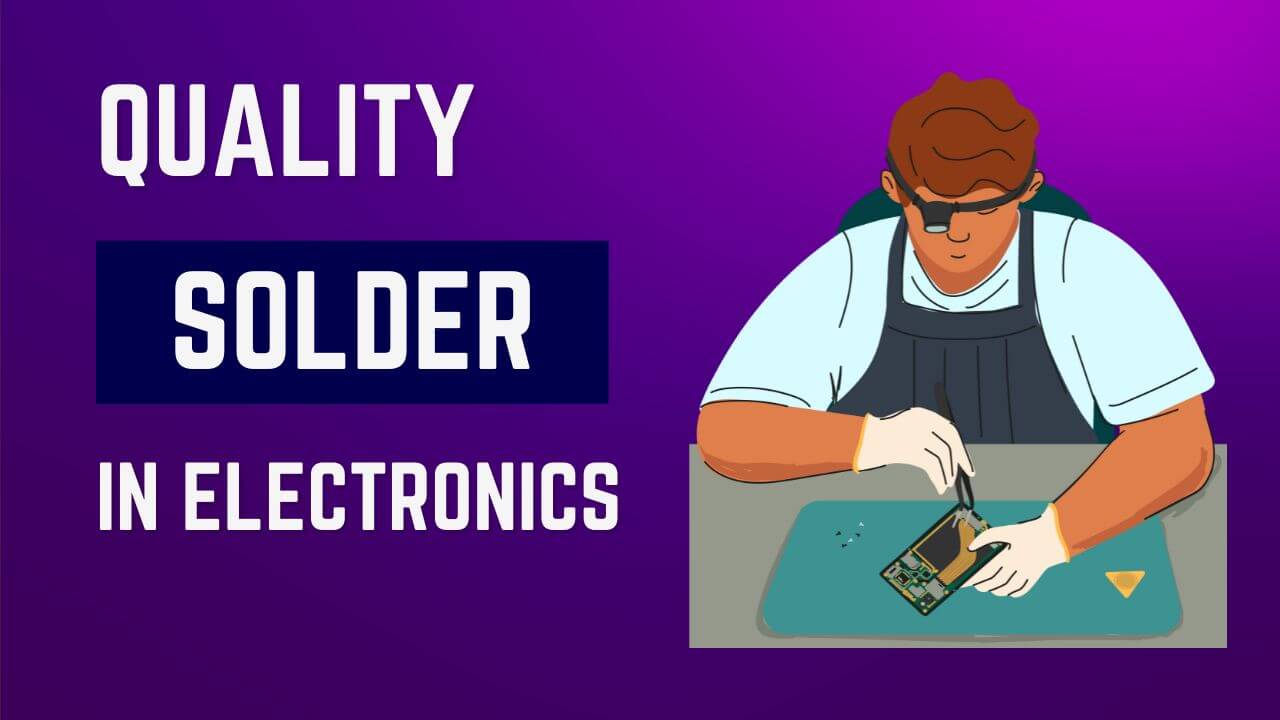 Lead-free solder finds extensive applications in diverse electronic sectors, including:
Consumer Electronics

: From smartphones and tablets to televisions and gaming consoles, lead-free solder is extensively used to manufacture consumer electronic devices. Its reliable performance, environmental friendliness, and regulatory compliance make it ideal for producing high-quality, sustainable electronic products.

Automotive Electronics

: Lead-free solder plays a critical role in the automotive industry, where reliability and safety are paramount. It is used for soldering components in automotive electronic systems, including engine control units (ECUs), advanced driver-assistance systems (ADAS), and infotainment systems. Lead-free solder ensures the durability and longevity of electronic connections, even in challenging automotive environments.

Industrial Electronics

: In industrial applications, where electronic devices are subjected to harsh operating conditions, lead-free solder provides a robust solution. It is employed in manufacturing equipment, power electronics, control systems, and other industrial devices that require reliable and long-lasting solder joints. Lead-free solder's high-performance characteristics make it well-suited for industrial environments.

Medical Electronics

: Lead-free solder has entered the medical industry, where precision, reliability, and patient safety are paramount. It is used to assemble medical devices, diagnostic equipment, implantable devices, and other medical electronics. Lead-free solder ensures the integrity of critical connections in medical devices, promoting patient well-being and compliance with regulatory standards.

Aerospace and Defense Electronics

: The aerospace and defense sectors demand soldering solutions to withstand extreme conditions, including high temperatures, vibrations, and mechanical stress. Lead-free solder meets these requirements, making it an excellent choice for aerospace and defense applications. It is used in avionics, communication systems, radar equipment, and other electronic components that operate in challenging environments.

Renewable Energy Systems

: With the global shift towards renewable energy sources, lead-free solder has become vital in the manufacturing of solar panels, wind turbines, and energy storage systems. These applications require solder that can handle high temperatures, maintain electrical conductivity over time, and withstand exposure to outdoor elements. Lead-free solder provides the necessary reliability and longevity for renewable energy systems to perform efficiently.
Flux-Core Solder: Enhancing Bonding and Reducing Oxidation
Flux-core solder is a remarkable soldering material incorporating flux within its core, offering several advantages over traditional soldering techniques. In this chapter, we will delve into the world of flux-core solder, exploring its benefits, working principles, and applications in electronics. From enhancing bonding to reducing oxidation, flux-core solder has become a preferred choice for professional soldering tasks.
Understanding Flux-Core Solder
Flux-core solder is a solder wire that contains a flux core running through its center. Flux is a chemical compound that facilitates soldering by preventing oxidation and promoting proper wetting and adhesion between the solder and the joined surfaces. The flux core within the solder wire eliminates the need for a separate flux application, making soldering more convenient and efficient.
The Benefits of Flux-Core Solder
Improved Bonding

: Flux-core solder enhances the bonding between the solder and the joined metal surfaces. The flux within the solder wire removes oxidation from the surface, ensuring a clean and oxide-free interface. This promotes better wetting, allowing the solder to flow smoothly and form solid and reliable bonds. The improved bonding strength translates into enhanced electrical conductivity and mechanical stability.

Oxidation Prevention

: Oxidation is a common challenge in soldering, especially when working with metals such as copper and brass. The flux in flux-core solder acts as a protective barrier, preventing the formation of oxides on the metal surfaces during the soldering process. By inhibiting oxidation, flux-core solder ensures the solder joint's integrity and maintains the connection's electrical and thermal conductivity.

Convenient Application

: Flux-core solder simplifies the soldering process by combining the solder and flux into a single material. This eliminates the need for separate flux applications, paste, or liquid fluxes. The flux is released from the core of the solder wire as it melts during soldering, evenly distributing the flux around the joint. This convenience saves time, reduces the risk of flux contamination, and enhances the soldering experience.

Versatility

: Flux-core solder is available in different types and formulations, catering to various soldering applications. From general-purpose electronics soldering to specialized tasks like plumbing or automotive repairs, a flux-core solder variant is suitable for each use case. This versatility allows for efficient and reliable soldering across a wide range of projects and industries.
Applications of Flux-Core Solder
Electronics Assembly and Repair

: Flux-core solder is extensively used in the assembly and repair of electronic devices, including printed circuit boards (PCBs), electrical components, and wiring connections. It ensures proper wetting and bonding of electrical joints, improving the overall performance and longevity of electronic devices.

Plumbing and Pipe Joining

: Flux-core solder is also popular in plumbing and Pipe joining applications. It is commonly used to join copper pipes, fittings, and valves, creating watertight connections. The flux within the solder wire removes oxide layers and helps the solder flow into the joint, making strong and durable plumbing connections.

Automotive Repairs

: Flux-core solder finds utility in automotive repairs, mainly when soldering electrical connections or fixing damaged wires. Its ability to prevent oxidation and ensure reliable bonding makes it an excellent choice for repairing automotive electrical systems, such as wiring harnesses, sensors, and connectors.

Crafts and DIY Projects

: Flux-core solder suits various crafts and do-it-yourself (DIY) projects involving soldering. Whether jewelry making, model building, or small-scale electronics projects, flux-core solder provides the convenience and performance required for precise and clean solder joints.
Solder Wire Diameter: Choosing the Right Size for Precise Connections
When it comes to soldering, selecting the appropriate solder wire diameter is crucial for achieving precise and reliable connections. The diameter of the solder wire directly impacts the amount of solder applied, the control over the solder flow, and the overall quality of the solder joint. This chapter will explore the significance of solder wire diameter and guide you in choosing the right size for your soldering projects.
Understanding Solder Wire Diameter
Solder wire diameter refers to the thickness or width of the solder wire. It is typically measured in millimeters (mm) or inches (in). Common solder wire diameters range from ultra-thin to thick, catering to different soldering requirements. The choice of solder wire diameter depends on the specific application, the size of the components being soldered, and the desired level of precision.
The Importance of Choosing the Right Solder Wire Diameter
Controlled Solder Volume

: The solder wire diameter determines the amount of solder applied during the soldering process. Thicker solder wires provide a higher solder volume, while thinner wires deliver less solder. Choosing the appropriate diameter ensures you can use the right amount of solder to create robust connections without excessive build-up or insufficient solder coverage.

Precision and Fine Detailing

: Smaller solder wire diameters, such as 0.5mm or 0.6mm, offer greater precision and control during soldering. These thin wires allow for precise application and maneuverability, making them suitable for intricate electronic components, surface mount technology (SMT), or projects with limited space. The smaller diameter facilitates fine detailing and minimizes the risk of solder bridges or excessive solder spreading.

Heat Management

: The solder wire diameter affects heat transfer during soldering. Thicker solder wires have more mass, requiring more heat to melt and flow properly. This increased heat absorption can benefit more significant components or applications that demand higher heat tolerance. On the other hand, thinner solder wires require less heat and reduce the risk of overheating delicate components, enabling better heat management.

Versatility

: Different solder wire diameters offer versatility for various soldering tasks. Thicker solder wires, such as 1mm or 1.2mm, are ideal for soldering more significant components, through-hole connections, or applications that require increased joint strength. Medium-sized diameters, like 0.8mm or 0.9mm, balance solder volume, and precision, making them suitable for a wide range of general soldering projects. Thin solder wires, such as 0.5mm or 0.6mm, excel in fine-pitch soldering, delicate circuitry, or projects with limited space.
Choosing the Right Solder Wire Diameter
When selecting the solder wire diameter, consider the following factors:
Component Size

: Evaluate the size of the components being soldered. Smaller components may require a thinner wire diameter to ensure precise and controlled solder application.

Application Requirements

: Assess the specific requirements of your soldering project. If joint strength and durability are crucial, thicker solder wires may be suitable. Opt for thinner solder wires for intricate or detailed work to achieve fine detailing and prevent solder bridges.

Experience and Skill Level

: Consider your level of soldering experience and skill. Thinner solder wires demand greater precision and control, making them more suitable for experienced soldering professionals. Beginners may find working with slightly thicker solder wires easier until they develop their soldering proficiency.

Project Constraints

: Consider any space limitations or restrictions imposed by the project. If you have limited space to maneuver the soldering iron or access the soldering points, thinner solder wires can provide the necessary flexibility to work within confined areas.

Specific Industry Standards

: Certain industries or applications may have recommended solder wire diameters based on industry standards or best practices. Researching and understanding any particular requirements or guidelines applicable to your field or project is beneficial.
Remember that selecting the suitable solder wire diameter is not a one-size-fits-all approach. It requires careful consideration of the abovementioned factors, personal preferences, and project-specific needs. Experimenting with different solder wire diameters is advisable to find the optimal choice for your soldering tasks.
Common Solder Wire Diameters and Their Applications
Here are some common solder wire diameters and their typical applications:
0.5mm – 0.6mm

: These ultra-thin solder wire diameters are well-suited for fine-pitch soldering, surface mount components, and intricate circuitry. They offer exceptional precision and control, making them ideal for electronics repair, small-scale projects, or applications with limited space.

0.8mm – 0.9mm

: Medium-sized solder wire diameters balance solder volume and precision. They are versatile and can handle various soldering tasks, including through-hole components, general electronics assembly, and PCB repair.

1mm – 1.2mm

: Thicker solder wire diameters suit larger components, heavy-duty connections, or applications requiring increased joint strength. They provide higher solder volume and are commonly used in industrial soldering, plumbing, or automotive repairs.

Other Sizes

: Solder wire diameters can vary beyond the commonly mentioned sizes. Specialty applications may require even thinner or thicker solder wires based on specific project requirements.
Soldering Iron Temperature: Optimal Heat for Perfect Solder Joints
Achieving perfect solder joints requires more than just the proper solder and technique—it also involves understanding and controlling the temperature of your soldering iron. The soldering iron temperature plays a vital role in the soldering process, impacting your connections' quality, reliability, and longevity. This chapter will delve into the importance of soldering iron temperature and guide you in achieving optimal heat for flawless solder joints.
The Significance of Soldering Iron Temperature
Maintaining the correct soldering iron temperature is crucial for several reasons:
Effective Heat Transfer

: Soldering iron temperature determines how efficiently heat is transferred to the solder and the soldered components. The solder must reach its melting point to flow and create a secure bond. A sufficient temperature can result in incomplete melting, weak joints, or inadequate solder wetting. On the other hand, excessive temperature can lead to overheating, component damage, or even the risk of thermal stress.

Solder Flow and Wetting

: The soldering iron temperature directly influences the flow and wetting characteristics of the solder. Optimal temperature ensures that the solder flows smoothly and evenly, creating a solid bond with the components. It promotes proper wetting, allowing the solder to form a reliable connection and adhere to the joined surfaces. This enhances the mechanical and electrical integrity of the solder joint.

Preventing Cold Joints and Solder Bridges

: Cold joints occur when the solder solidifies before achieving a complete bond, resulting in weak connections. Inadequate soldering iron temperature can contribute to cold joints, as the solder may not fully melt or flow properly. Conversely, excessively high temperatures can lead to solder bridges, where excess solder spans across adjacent electrical connections. Maintaining the correct soldering iron temperature mitigates these issues and ensures consistent, reliable solder joints.

Component Protection

: Controlling the soldering iron temperature is essential for protecting delicate electronic components. Excessive heat can damage sensitive components, such as integrated circuits (ICs) or surface-mounted devices (SMDs), by causing thermal stress, component failure, or even melting of plastic parts. Using the appropriate temperature can minimize component damage risk and ensure longevity.
Achieving the Optimal Soldering Iron Temperature
To achieve optimal soldering iron temperature, follow these guidelines:
Refer to Manufacturer Recommendations

: Consult the user manual or documentation your soldering iron manufacturer provided. It often includes recommended temperature ranges for different soldering tasks. Adhering to these guidelines ensures that you operate the soldering iron within its designed parameters.

Consider Solder Type

: Different solder alloys have varying melting points, requiring different temperature settings. Lead-based solders typically melt at lower temperatures than lead-free solders. Ensure that the soldering iron temperature is suitable for the solder alloy you are using to achieve proper melting and flow.

Account for Component Sensitivity

: Consider the heat sensitivity of the soldered components. Delicate components like SMDs or ICs may require lower soldering iron temperatures to prevent damage. Heat sinks or heat-absorbing clips can protect sensitive parts during soldering.

Practice and Experiment

: Practice soldering on scrap or test boards to determine the ideal temperature for your specific soldering setup. Experiment with different temperatures and observe the results, including solder flow, wetting, and joint quality. This hands-on approach lets you fine-tune the soldering iron temperature for optimal results.
Remember that the optimal soldering iron temperature can vary depending on the specific soldering task, type, and component requirements. It may require some trial and error to find the perfect balance. You will understand the appropriate temperature for different soldering applications as you gain experience and familiarity with your soldering equipment.
Temperature Control and Maintenance
Maintaining a consistent soldering iron temperature is as important as setting the initial temperature. Here are some tips for temperature control and maintenance:
Temperature Stability

: Invest in a soldering iron with good temperature stability and accuracy. A quality soldering station or iron with temperature control features can help maintain a consistent temperature throughout the soldering process. Avoid using soldering irons without temperature control, as they can lead to temperature fluctuations and inconsistent results.

Calibration and Verification

: Periodically calibrate and verify the temperature accuracy of your soldering iron using a reliable temperature measurement device. This ensures that the displayed temperature matches the actual temperature, allowing you to solder with confidence.

Preheating and Thermal Recovery

: Preheating the components or the soldering area can help minimize heat loss and improve soldering efficiency. Additionally, when soldering multiple joints or working with more significant components requiring more heat, the soldering iron can recover its temperature between each solder joint to ensure consistent performance.

Clean and Tin the Soldering Iron Tip

: A clean and adequately tinned soldering iron tip facilitates efficient heat transfer and soldering. Regularly clean the tip using a damp sponge or brass wire cleaner to remove oxidation or debris. Apply a thin solder layer (tinning) to the tip before and after each use to protect it and ensure proper heat transfer.

Safety Considerations

: Always prioritize safety when working with soldering irons. Use appropriate heat-resistant materials and work in a well-ventilated area to avoid exposure to harmful fumes. Follow the soldering iron manufacturer's safety guidelines to prevent accidents and protect yourself and your workspace.
By understanding the significance of soldering iron temperature and implementing effective temperature control and maintenance practices, you can achieve perfect solder joints consistently and reliably.
Tips and Techniques for Proper Soldering and Flux Application
Soldering is both an art and a science. It requires skill, precision, and knowledge to create solid and reliable connections in electronic circuits. This chapter will explore essential tips and techniques for proper soldering and flux application, ensuring high-quality solder joints that stand the test of time.
Prepare Your Workspace
Before diving into soldering, setting up a clean and organized workspace is essential. Follow these steps:
Clear your work surface of clutter or debris interfering with your soldering process.

Ensure proper ventilation to avoid inhaling harmful fumes. Work in a well-ventilated area or use a fume extractor.

Use a heat-resistant mat or pad to protect your work surface from heat damage.

All necessary tools and materials are within reach, including soldering iron, solder wire, flux, soldering stand, tweezers, wire cutters, and helping hands.
Choose the Right Solder and Flux
Selecting the appropriate solder and flux is crucial for achieving optimal soldering results. Consider the following:
Solder

: Choose a solder alloy that suits your specific application. Common solder types include lead-based and lead-free solders. Lead-based solder is easier to work with due to its lower melting point, while lead-free solder is more environmentally friendly. Ensure that the solder diameter matches the size of the components and joints you'll be soldering.

Flux

: Flux is a vital component that improves soldering performance by removing oxidation, promoting solder wetting, and enhancing the flow of molten solder. Select a flux type suitable for your soldering job, such as rosin-core flux for general electronics soldering. Apply flux sparingly to avoid excessive residue build-up.
Prepare the Components
Proper preparation of the components being soldered contributes to successful solder joints. Follow these guidelines:
Clean the components: Remove any dirt, grease, or oxidation from the surfaces to be soldered using a suitable cleaning agent or isopropyl alcohol. Clean components allow for better solder wetting and bonding.

Tin the component leads: Apply a thin layer of solder to the component leads before soldering. Tinning improves heat transfer, promotes solder flow, and prevents cold joints.
Heat Management
Mastering heat management is essential for precise and efficient soldering. Consider the following:
Soldering iron temperature

: Set the soldering iron to the appropriate temperature for the used solder and components. A higher temperature does not necessarily equate to better soldering. Refer to manufacturer guidelines for recommended temperature ranges.

Tip maintenance

: Keep the soldering iron tip clean and well-tinned. Clean the tip regularly using a damp sponge or brass wire cleaner to remove oxidation. Apply a thin layer of solder to the tip (tinning) before and after each use to ensure efficient heat transfer.

Heat distribution

: Apply heat evenly to the component lead and the pad to ensure proper solder flow and wetting. This minimizes the risk of creating cold joints.
Soldering Techniques
Mastering various soldering techniques will significantly enhance the quality of your solder joints. Here are some fundamental approaches to practice:
Soldering iron positioning

: Position the soldering iron tip at the junction of the component lead and the pad. Heat both the lead and pad simultaneously to ensure good solder flow and wetting.

Solder application

: Place the solder wire at the junction of the heated component lead and the pad. Allow the solder to melt and flow smoothly onto the joint. Use enough solder to form a reliable connection without creating excess solder blobs or bridges.

Soldering time

: Avoid prolonged heating of the components to prevent overheating and potential damage. Aim for a quick, efficient soldering process to minimize heat transfer to sensitive components.

Solder joint inspection

: After soldering a joint, visually inspect it to ensure a smooth, shiny appearance. A dull or grainy surface may indicate a weak or cold joint that requires rework.
Flux Application
Proper application of flux enhances soldering performance and results in robust solder joints. Consider the following flux application techniques:
Flux type

: Choose the appropriate flux for your soldering job, such as rosin-core flux or liquid flux. Different flux types have varying levels of activity and residue.

Applying flux

: Apply a small amount of flux to the solder joint area before soldering. Use a flux pen or a brush to spread the flux evenly. Avoid applying excessive flux, as it can lead to excessive residue build-up.

Flux removal

: Remove any flux residue after soldering using a flux remover or isopropyl alcohol. Excessive flux residue can cause corrosion or interfere with the circuit's functionality.
Practice, Patience, and Perfection
Soldering is a skill that improves with practice and experience. Here are some additional tips to enhance your soldering abilities:
Practice on scrap materials

: Before working on critical projects, practice soldering techniques on scrap components and boards to refine your skills and gain confidence.

Patience and precision

: When soldering, ensure each joint is carefully made. Rushing can lead to mistakes and poor-quality solder joints.

Continuous learning

: Stay updated with the latest soldering techniques, tools, and technologies through online resources, forums, and workshops. Continuous learning will expand your knowledge and improve your soldering capabilities.
Following these tips and techniques for proper soldering and flux application, you can achieve high-quality solder joints that ensure reliable connections in your electronic projects. Remember to always prioritize safety, maintain a clean workspace, and practice good soldering habits. With time and practice, you will become a proficient soldering expert capable of creating professional-grade solder joints that meet the highest quality and durability standards.
Note: The information provided in this chapter is intended as a general guide. Always refer to the manufacturer's instructions and guidelines for specific soldering equipment and materials.
Expert Recommendations: Top Brands and Products for the Best Soldering Experience
When it comes to soldering, using high-quality soldering equipment and materials is essential to achieve the best results. This chapter will explore some of the top brands and products experts recommend for an exceptional soldering experience. These brands have established themselves as industry leaders, known for their reliability, performance, and innovation. Let's dive in and discover the top choices for soldering enthusiasts and professionals alike.
Weller
Weller is a renowned brand synonymous with soldering excellence for decades. Their soldering irons, stations, and accessories are highly regarded for their exceptional build quality and precise temperature control. Weller offers soldering tools suitable for various applications, from intricate electronics work to heavy-duty soldering tasks.
Weller WES51 Analog Soldering Station

: This popular soldering station features adjustable temperature control, a durable iron, and a stable base. It is widely praised for its reliability and ease of use.

Weller WE1010NA Digital Soldering Station

: With its digital temperature display, fast heat-up time, and interchangeable tips, this station offers advanced features for precise soldering.
Hakko
Hakko is another well-respected brand in the soldering industry, known for its cutting-edge technology and ergonomic designs. Professionals worldwide favor Hakko soldering tools for their performance, durability, and user-friendly features.
Hakko FX-888D Digital Soldering Station

: This versatile soldering station offers precise temperature control, rapid heat-up time, and a compact design. It is highly regarded for its reliability and consistent soldering performance.

Hakko FX601-02 Adjustable Temperature Control Soldering Iron

: Designed for portability and versatility, this soldering iron features an adjustable temperature control dial and a comfortable grip, making it ideal for on-the-go soldering projects.
Metcal
Metcal is a leading brand known for its innovative soldering solutions and cutting-edge technology. Their soldering systems, such as Metcalf's patented SmartHeat®, utilize advanced heating technology to deliver precise and efficient soldering performance.
Metcal MX-5210 Soldering and Rework System

: This all-in-one soldering and rework system combines precision, power, and versatility. It features intuitive controls, interchangeable soldering and rework handpieces, and exceptional thermal performance.

Metcal CV-5200 Connection Validation Soldering System

: This unique soldering system provides precise temperature control and real-time feedback on the quality of the solder joint. It ensures reliable connections and reduces the risk of defects.
Kester
Kester is a trusted name in the soldering industry, renowned for its high-quality soldering materials and fluxes. Their soldering products are widely used and recommended for their reliability, consistency, and superior performance.
Kester 44 Rosin Core Solder

: This popular solder wire is known for its excellent wetting and soldering characteristics. It contains a rosin-based flux core that provides reliable solder joints and minimizes the risk of solder bridges or cold joints.

Kester 951 No-Clean Flux Pen

: The Kester 951 flux pen offers convenient and precise applications. It is a no-clean flux that leaves a minimal residue, making post-soldering cleanup easier.
MG Chemicals: Quality Solutions for Soldering Applications
MG Chemicals is a trusted brand that provides a comprehensive range of soldering materials and products. With a focus on quality and performance, MG Chemicals has earned a reputation for delivering reliable solutions for various soldering applications. Their commitment to excellence makes them a top choice among soldering enthusiasts and professionals.
MG Chemicals 60/40 Rosin Core Solder

: This solder wire is popular for its reliable performance and excellent wetting properties. The 60/40 alloy composition ensures a eutectic melting point, producing optimal solder flow and solid and durable connections.

MG Chemicals Liquid Flux

: The liquid flux offered by MG Chemicals is formulated to enhance soldering by improving wetting and reducing oxidation. It is available in various flux types, including rosin and no-clean flux, catering to different soldering requirements.

MG Chemicals Solder Paste

: MG Chemicals provides high-quality solder paste for surface mount technology (SMT) applications. This ready-to-use formulation simplifies the soldering process for precise and efficient solder joints in electronic assembly.

MG Chemicals Soldering Iron Tips

: MG Chemicals offers a wide range of soldering iron tips to accommodate different soldering tasks and component sizes. These tips are designed with durability and heat transfer, ensuring consistent and reliable soldering performance.

MG Chemicals Flux Remover

: After soldering, cleaning excess flux residue is crucial for the longevity and appearance of the circuit. MG Chemicals provides effective flux removers that efficiently remove flux residues without causing damage to the components or the PCB surface.
MG Chemicals strives to meet the needs of soldering professionals by consistently delivering high-quality products. Their commitment to research and development ensures that they stay at the forefront of soldering technology, providing reliable solutions for even the most demanding soldering applications.
By choosing MG Chemicals as your soldering partner, you can trust their expertise and dedication to provide top-notch products that enable you to achieve professional soldering results. Whether you are working on intricate electronic circuits or larger-scale projects, MG Chemicals has the solutions to meet your soldering needs.
Conclusion
In conclusion, the world of electronics is constantly evolving, and achieving seamless connections is crucial for the performance and reliability of electronic devices. Understanding the importance of quality solder and choosing the right type for your specific applications can elevate your soldering skills and create robust connections that stand the test of time.
Throughout this article, we have explored the significance of solder in ensuring reliable circuit connections. We have delved into the various factors to consider when choosing the best solder for your electronics projects, including solder type, wire diameter, soldering iron temperature, and flux application techniques. Additionally, we have highlighted the benefits of using lead-free solder for its eco-friendly and high-performance attributes.
We have also discussed the different types of solder available, such as traditional solder, high-temperature solder, flux-core solder, and lead-free solder. Each type offers unique characteristics for specific electronic applications, allowing you to tailor your soldering approach to meet your project's requirements.
Furthermore, we explored the importance of solder wire diameter and how it impacts the precision and reliability of solder joints. By selecting the proper size, you can ensure accurate solder placement and optimal electrical conductivity, leading to superior performance and longevity of your electronic devices.
Additionally, we emphasized the significance of soldering iron temperature in achieving perfect solder joints. Proper heat management is essential for avoiding cold joints or thermal damage to delicate components. You can achieve consistent and reliable solder connections by adhering to the recommended temperature range.
Moreover, we provided valuable tips and techniques for proper soldering and flux application. These guidelines will help you achieve clean, strong, and long-lasting solder connections, from prepping the soldering area to applying the flux.
Lastly, we introduced some top brands and products renowned for their quality and performance in the soldering industry. These brands, including Kester, Weller, Hakko, MG Chemicals, and Alpha Assembly Solutions, offer various soldering materials and tools to suit multiple soldering needs.
In conclusion, mastering the art of soldering and selecting the best solder for your electronics projects is essential for seamless connections. By employing the knowledge and techniques in this article, you can unleash your soldering skills and create high-quality electronic devices that operate flawlessly.
Remember, practice makes perfect. So, roll up your sleeves, gather your soldering tools, and confidently dive into the world of seamless connections. With suitable solder and proper techniques, you can unlock endless possibilities in electronics.